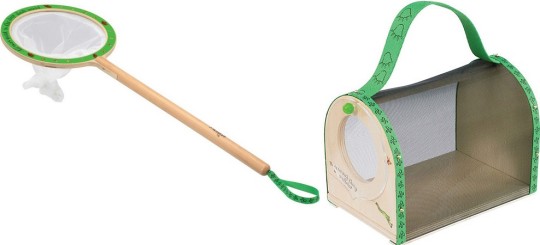 Debenhams has a Gruffalo Catcher on sale at the moment, reduced to £3.90 from £13. If you use the code FV39 it's reduced to £3.51.  If you click and collect, you can get it for that price - but if you need it delivered it adds £3.99, making it £7.50. This would be a perfect accessory to the Gruffalo Trail if you're looking for a day out this summer.
The Gruffalo critter catching net is a fab wooden tool to help you explore and discover nature's little secrets.
It is designed to catch insects, bugs and even Gruffalo's should you find one. Then there's the bugbox Woodland Creature Cabin Play Tool that you can put your bugs into for later exploration.
I cant see any reviews for this, either on Debenhams or Amazon, but it looks pretty cool and I'm sure your fans will love it.
My daughter is four and she is bug obsessed, seriously, loves them. She'll find a worm and play with for ages. She doesn't really know the Gruffalo, but she'd love this set, and I much prefer it for keeping the animals to the cheap plastic ones which I think must practically boil the bugs. I love this one and my kids will too!
THanks to soundwave-28 at HUKD