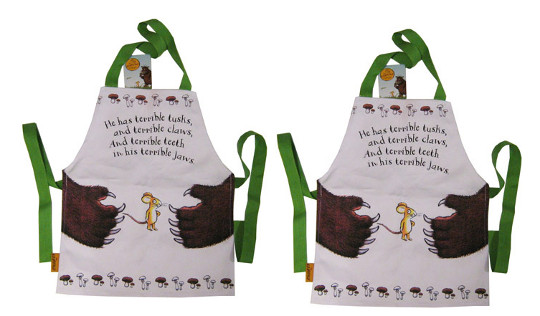 Waterstones have on offer a Gruffalo apron for £2.75 instead of £5.50 and they also have free UK delivery.
Deals like this are the reason I love sites like HUKD and PlayPennies. With a little bit of planning, you can be prepared for Christmas and every birthday throughout the year, and be an absolutely fantastic gift giver without it breaking the bank at all. I recently saw a Dr Seuss bib that was so cheap it was almost criminal not to buy it, so I did, and then found out that my daughter's best 'friend' (at playschool) is a Dr Seuss fan. Well, that's Christmas for her wrapped up, and it cost me next to nothing!
This Gruffalo apron would make an ideal stocking filler, or added to one of the many children's baking sets we see floating about these parts, could be a lovely gift too - perfect for wintery apple pie.
This is a cotton apron,  appropriate for children aged 3 - 5 years and size 44cm x 33cm.
Thanks to bellabambino at HUKD