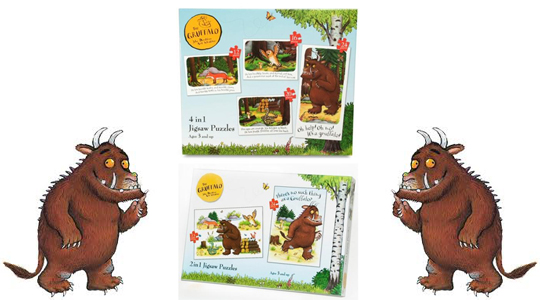 Play have a couple of rather nice deals on Gruffalo jigsaw puzzles at the moment: £3.59 for a 2-in-1 Gruffalo puzzle and £5.40 for a 4-in-1 version.
Well I think this is a great deal, but then I would as it's made up of two of my favourite things (cue Julie Andrews) - jigsaw puzzles and the, ever delightful, Gruffalo.
Seriously, if you're looking for a present that a child will love, doesn't eat batteries, doesn't play silly sounds or sing songs and is traditional, yet modern at the same time then either of these Gruffalo puzzles are going to be perfect.
The 2-in-1 Gruffalo puzzle box has a 12 and 24-piece puzzle inside and measures 165mm x 240mm; the 4-in-1 Gruffalo puzzle box contains 12, 16, 20 and 24-piece puzzles.
Puzzles are fantastic for problem-solving, pattern recognition, shape sorting, developing fine motor skills and, lets not forget, some good old-fashioned fun.
The prices I quoted earlier are 10% lower than the prices displaying on the Play website; use this code TOYSTENOFF to drop the price in your basket.  Please also be aware that delivery time for the 2-in-1 Gruffalo puzzle is currently showing as between one and two weeks.
Thanks to andywedge at HUKD