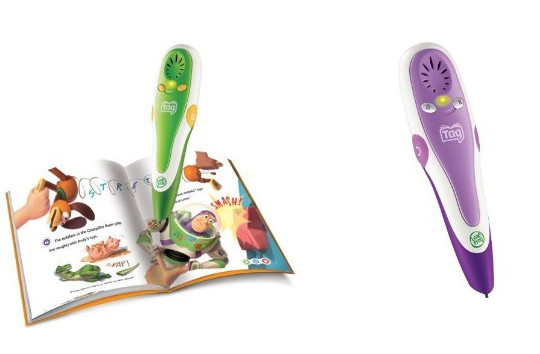 There's £10.02 off the Leapfrog Tag Reader system at Amazon at the moment. It normally sells at £29.99, but for a limited time is reduced to £19.97 and £14.99.
These came out - when was it? Last year? The year before? - and they were quite expensive. We have the Tag Junior and I wonder whether it's worth upgrading - I guess so when my little one is old enough? Anyway, the price has come down quite a bit over the last year and a bit, which is great, specially in the run up to Christmas.
If you don't know how these work, it's easy. You buy the books that go with them, download the audio from Leapfrog, and then your child can touch the Tag Reader to the book and the pen 'reads' the stories out loud to them. The pen 'interacts' with different parts of the book, bringing the pictures to life.
The Tag Reader can store up to ten books, allowing children to move from one book to another (this one has a 32mb memory). This particular reader also comes with a book that introduces over 17 learning activities.
It does require - and go through - 2 AAA batteries.