Graco Tea Time High Chair £19.99 @ Home Bargains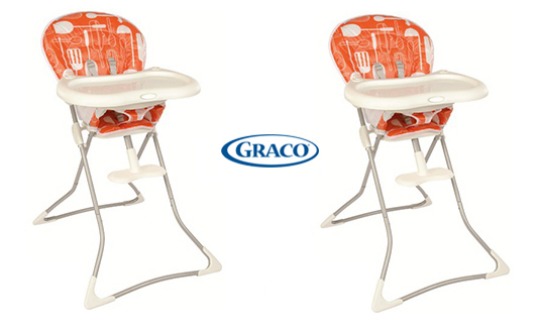 The Graco Tea Time High Chair is new in at Home Bargains. It has a daft RRP which we will ignore, but it is selling for at least £39.95 everywhere except Home Bargains - who are charging just £19.99! And you can even collect it from store for free too. That really is a great bargain.
We have this high chair at home for our toddler,just with a different pattern on the cover, and have found it really great. It is really easy to clean (which is massively important in a high chair!). The tray can be moved into several positions as baby grows to give them more room, and it has a five point harness which is really secure and easy to adjust too.
The cover can be removed for cleaning when it needs more than just a quick wipe down, and the tray comes off altogether too when you want, or to make it easier to get a growing toddler out of the chair.
It is really easy to fold, and takes up very little space when it is folded up (which is great in a cluttered kitchen like mine!). It does have an adjustable foot rest, but this isn't a feature we have messed with so far - our youngest likes to kick his feet about and wriggle, not 'rest' them! We have been using if for more than a year now, and it is still in excellent condition, and has worn really well despite the abuse it gets from it's user. ;)
On the Home Bargains website it does say that the design may vary, but that refers to the cover pattern rather than the style of the chair itself. Personally the pattern is less important to me than the functionality and ease of use of the chair, but this is definitely something to be aware of when you order.