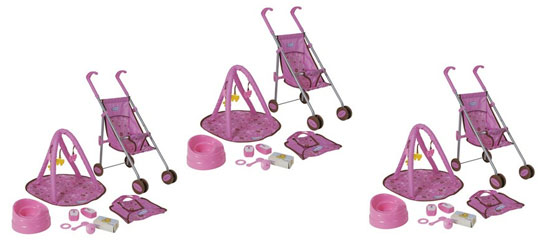 If you have a girly-girl who loves nothing more than playing 'mum' then you might want to pop over to Littlewoods and take a look at the Graco Doll Playset they have on sale - its original full price was £31, it's now available for just £10.
I was never a dolly person, preferring to play with cars and Star Wars figures, so I always find it very difficult to write about deals like this Graco Doll Playset - I'd rather poke my eyes out than watch little girls playing at being mummy.
My little great-niece has lots of doll things and is very girly; a couple of Christmases ago she got a Baby Born something or other and asked me to help her change her baby's nappy - everyone else was MOST amused to see my squirm through every second of it!
Anyway, that's enough of that: what do  you get for your £10?
Well you get a stroller that folds flat, a travel bag and a changing mat, a baby gym, a potty, a baby monitor and various other little bits of baby paraphernalia - you don't get a doll with it though.
The Graco Doll Playset is suitable for little girls aged three or older and standard 48-hour delivery is free.
Thanks to Becky2010 at HUKD