Girls 4-Piece Tweet Floral Luggage Set £7.99 @ Argos Ebay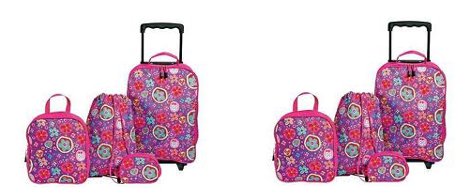 The Argos Ebay store has a very girly Tweet Floral four-piece luggage set on offer for £7.99, with an additional £1.99 for postage, bringing the whole set to £9.98.
I have to say right off the bat that luggage that costs just over £2 a piece doesn't strike me as being particularly good quality. That said, it does have a 12-month Argos warranty, so it can't be too bad.
There's a wheeled suitcase with elasticated packing or clothing retaining  straps, two wheels anda tow handle. It's (H)46, (W)28, (D)11.5cm in size and empty, weighs .83kg, so pretty light, which is a great thing when you have weight limits.  It's not a massive bag though, as it only has a 15 litre capacity.
The backpack is  even lighter, weighing just over 100g with a 3 litre capacity.
There's also a gym bag, which is just under 100g, but it has a greater capacity at 4.5 litres.
And as a final touch, perfect for girls, the set includes a purse with a half litre capacity, so perfect for your liquids on flights, or your make-up bag inside your handbag.
Reviewers  love the set and at this price, it does seem to be a winner.
Thanks to chuckiedoll at HUKD