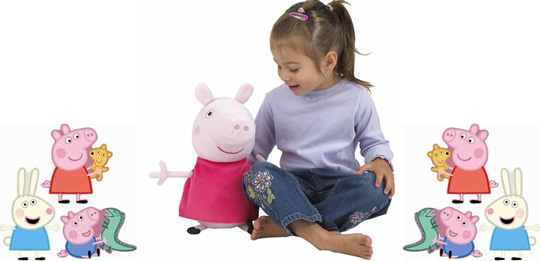 If you have a young Peppa Pig fan in your family, or circle of friends, then you might want to grab one of these giant Peppa Pig soft toys and stash her away until an appropriate giving moment arises.
She's 14 inches tall and usually costs £24.99 but, at the moment, she'll be yours for a mere £12.49.
I'm rather fond of Peppa Pig, she just makes me chuckle; I love the way she and Susie Sheep fall out, often, but always make up and become bestest ever friends again before the end of each little episode.
This giant Peppa Pig soft toy doesn't do anything - she doesn't require any batteries to make any sounds, she doesn't sing any songs, she doesn't do any dances and she doesn't have any flashing or glowing lights.
All that giant Peppa needs is giant squishy hugs and lots of love; in return she'll offer lots of soft comfort and friendship; WOW, you've got to love Peppa Pig, she's just awesome.
You can collect your giant Peppa Pig soft toy for free at your local Toys R Us, or pay over the top for home delivery.
Thanks to Buffy11 at HUKD