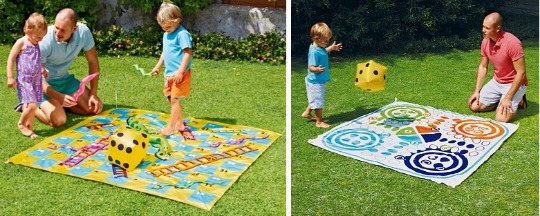 The Chad Valley Giant Outdoor Board Games look like brilliant fun, and three of them are now half price, down from £9.99 each to £4.99! The normal sized versions of these games cost more than that, and these will get the kids outside in the fresh air and get the family playing together as well.
The ones that are reduced to £4.99 are Snakes and Ladders, which comes with inflatable snakes and dice, Ludo which I would need a bit of a reminder on how to play, and Pick Up Sticks which is much easier to play (though I'd keep the little ones away from the pointed sticks!).
I imagine that the Snakes and Ladders game is going to be the best seller, as with the inflatable snakes that you can place where you want on the board it's going to give so many different variations to play. They're not going to get bored too easily with this one!
Stock levels look very good on all of the Chad Valley Outdoor Games at the moment, and you can use the free reserve and collect service or opt for home delivery from £3.95.
Thanks to thkarthik @ HUKD  for snakes & ladders.