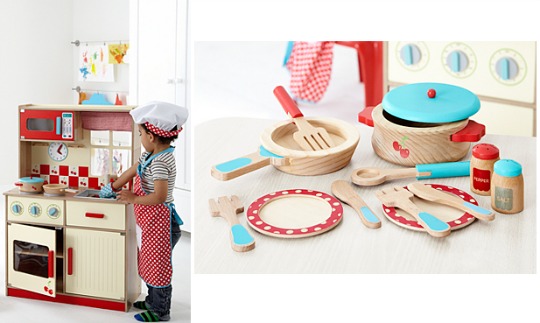 If you are looking for a big birthday present but have a tight budget, you must have a look at this George Home Wooden Kitchen Bundle from Asda George. It is only £45 and is very highly rated on the Asda George site. The quality is raved about in the reviews so I think for under £50 this is a great deal.
The George Home Wooden Kitchen Bundle includes Wooden Kitchen with drawers, cupboards and a coordinating twelve piece set of wooden cooking utensils.
It's totally unisex. At last the retailers are realising that our boys want play kitchens too. This Wooden Play Kitchen by George Home is a cream and red colour with gingham accents. It's rather stylish and I would have died for one of these when I was a nipper.
This Play Kitchen is made from a mixture of wood and MDF and requires self assembly. Apparently, it should take only one hour or so to build.
Due to it's size you cannot Click and Collect the George Home Wooden Kitchen Bundle from an Asda store, but delivery is only £2.95 and you won't have to lift it in and out of the car.