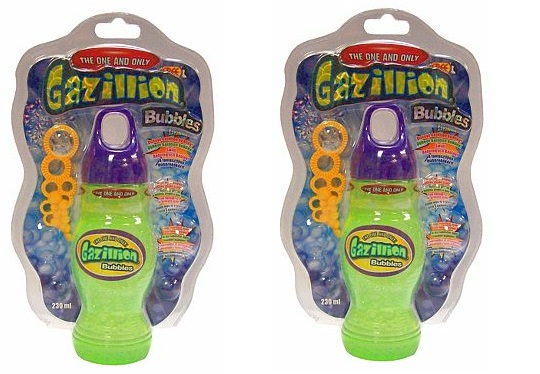 It's the Jubilee weekend, four days off, woo hoo! And it is half term. If the weather is half way decent (and it looks like it might just be that, although not as good as last week) then you'll want to be outdoors as much as possible. What's more fun than bubbles? My son and his friends can spend ages chasing these around and creating them. This looks like a pretty good toy for doing just that. Debenhams has reduced by half price the Gazillion Bubbles X Linkz Gun, down from £10 to £5.
To be honest, I can't for the life of me work out how this works as a bubble gun. There's nothing on the website and the packaging doesn't give anything away. Here's what it does say on the website. "This colourful X-Linkz bubble gun from Gazillion Bubbles ensures hours of bubble blowing fun with a lime green front tank and a purple body."
Which makes me wonder if the photo they've put on the website is just of the refill rather than the gun itself? A quick search on the internet shows that the gun does look like an actual gun, with a grip and a trigger. I've often found that sort of mistake is behind a huge reduction on the internet. A product isn't selling because they put the wrong photo with it. I'd double check when ordering though.
I did find it much cheaper on Amazon for £1.98, however it was sold by a third party through Amazon so you can't use Amazon Prime. With delivery factored in it came to a much dearer £6.60. With Debenhams you can collect instore for free.