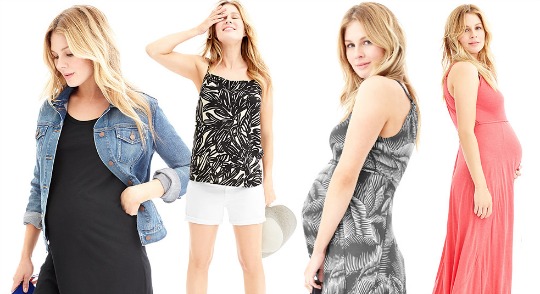 If you are expecting or know someone who is then this is very good news, as you can get some super cheap and rather lovely maternity clothing with this offer. Gap have a voucher code that gives 30% off all maternity including sale, and seeing as there are some big price cuts it's worth making the sale section your first stop. Gap Maternity is only available online so they are also offering free delivery as well!
Click here to shop Gap Maternity*
Discount: Extra 30% off all maternity including sale.
Expires: Wednesday 8th July
Code: GAPMUM
In the Maternity Sale some of the items are now fairly restricted on size availability seeing as the sale has already been on for a while, but it's still worth looking as you can get tops from £4.89 and trousers from £6.99 with this code. The full priced Maternity Clothing is very reasonable anyway, but an extra 30% off makes it much better value.
You only have two days to use this voucher as it expires Wednesday at midnight. You can find this Gap voucher code along with other over in our voucher section. This includes a 25% off all baby and kids so you might want to grab some of those as well!