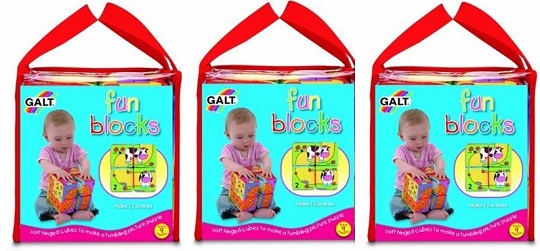 Babies and young toddlers love blocks. They love the way their little chubby hands can manipulated the even sided shape, and it gives them a sense of control in a world where they have very little. You can't really go wrong with blocks as a present. And at Amazon these Galt Fun Blocks are down from £9.99 to £4.99.
The Galt Fun Blocks are soft hinged cubes to make a tumbling picture puzzle. Twist and turn the colourful blocks to give 12 different animal pictures. Designed to encourage manipulative skills, the 8 foam-filled blocks are connected with fabric hinges and feature a rattle in one block.
Progress to following the path and counting the animals in the number 1 to 12 pictures. Soft, safe and machine washable. Packed in a PVC bag with carry handle.
This is what one reviewer had to say on the Amazon site about these blocks. "My daughter was given this when she was 3 months old, it was an instant favourite toy, she loved staring at the animals when she was tiny - bright colours and cute animals, it was the one toy that went everywhere with us for at least six months. Great for waving around and little hands can hold easily. She is now 13 months and plays with it in her cot - she now likes to find the cows and the sheep to do her moo and baa."
Thanks to andywedge at HUKD!