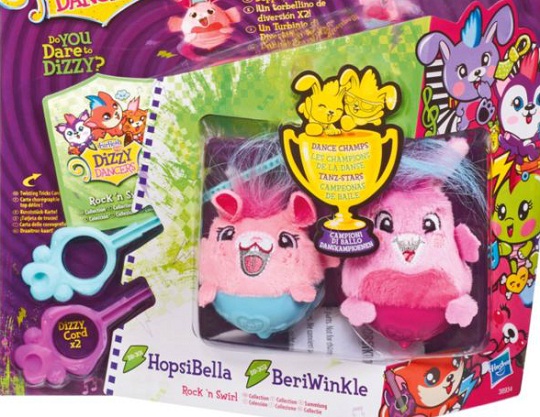 The FurReal Dizzy Dancers pack of two mad little creatures is down from £14.97 to only £6.99 in the Argos sale. Not only that, but these crazy dudes are also getting free delivery. Indeed, they are, for some strange reason, completely free to deliver. A brilliant Christmas gift right here.
The FurReal Dizzy Dancers come in a pack of two adorable, twirling, spinning pets. The Hopsibella pink bunny pet and the Berwinkle purple bunny pet are ready to get their dance on and it is ever so easy to make them spin and twirl all over.
You attach one of your pets to one of the included Dizzy Twirling Bases, insert an included Dizzy Cord accessory and pull it out quickly. Then watch as your funny pet starts to swirl and twirl. The faster you pull out the Dizzy Cord accessory, the faster your pet will whiz around. The colours and styles may vary and the pets are suitable for all children over the age of four.
At this price they would make fab Christmas gifts or stocking fillers and you can get the FurReal Dizzy Dancers Deluxe Dance Studio for half price too at only £9.99.