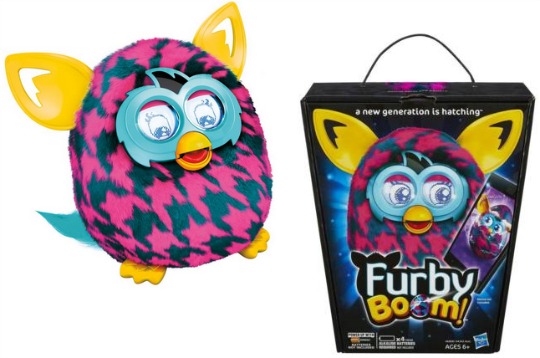 It's safe to say that Furbies/Furbys/Furbi (I have no idea the plural of Furby) are the marmite of the toy world.These Furby Boom creatures are the same. Sure they do more and look much funkier but I HATE them and my kids LOVE them. Amazon are selling these for just £29.95 including FREE Super Saver delivery. These little furry annoying things would cost you £39.99 for The Entertainer, £48.74 from Toys R Us and £45 from Very, so the Amazon price is a GREAT deal! Just click "see all buying options" and you will find it at this amazing price.
So, we have established I don't like any kind of Furby but kids go nuts for them. Why is that? It's really simple, it responds to them and they can teach it to speak more English. It's a pet without the poop scooping and the massive responsibility. If you pull this Gremlin/Gizmo fusion it will fall asleep.
Your child must treat it well as this is what determines it's personality. It can be introduced to other Furby Booms, which is fun if your child's friend has one too. Don't forget this is a modern day Furby, which means it has an app for it, where your child can enjoy games, get eggs and raise virtual Furblings.
Thanks to Pukka deal @ HUKD