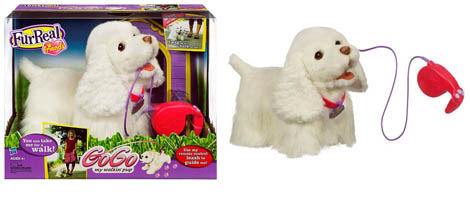 The Fur Real Go Go Walking Pup is one of the products predicted as a best seller this Christmas by the Toy Retailers Association. I was particularly amused by the Guardian's comment on this which was, "Please remember, a pretend canine friend is for the life of the battery, not just for Christmas." Well, Smyths have marked this must-have toy down from £59.99 to £33.99 so if you want one, best you go and nag one!
This lovable puppy can go with you everywhere. It can walk in the neighbourhood, go to the park, explore the world with you and play with you. He makes barking noises and wags his tail as he goes, showing his appreciation for your care.
The Fur Real Go Go walking pip is led by a remote control that you can use to guide him along as you go. His fur is soft and silky and he has a little collar to mark him out as yours. This doesn't strike me as a winner, but for any kid over four it may well be the best Christmas gift ever.
Thanks to mmg1975 at HUKD!