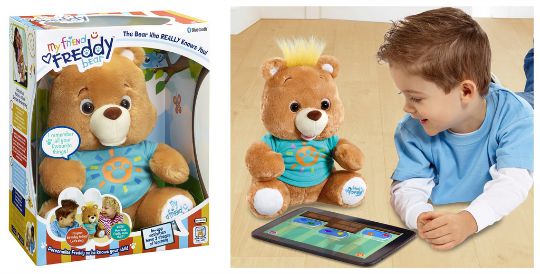 It's penned as one of the toys to buy for Christmas 2015. What is it? My Friend Freddy Bear Plush Toy. That means that prices for this cute soft toy will rarely budge between now and the festive event. We have spotted that Amazon are selling this sought after fella for just £31.99 with FREE delivery, whereas everywhere else (bar The Entertainer who are also £31.99) are selling him for around the £40 mark.
So, what makes My Friend Freddy Bear worth £40? He can be connected to an Android App (free to download) and your child can learn via Freddy. You can also enter lots of personal information (nothing too sensitive) about your child and your family to make this teddy bear seem like he knows your child.
Freddy is an interactive bear that will talk when cuddled, turned upside down or thrown (and hopefully caught).
Delivery is FREE when buying from Amazon as My Friend Freddy costs over £20 or you can buy from The Entertainer and Click and Collect from a store for FREE. Delivery costs £2.99 from The Entertainer.