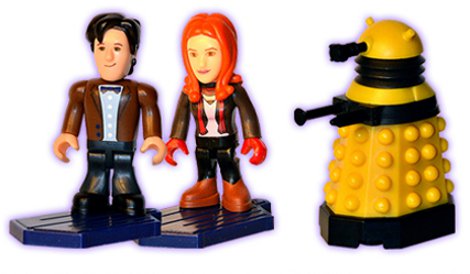 Starting today, fans of Doctor Who can start collecting free figurines all this weekend and into next week.
If you're heading out this morning – it's raining here in London and is rather grim – you might want to pick up a copy of the Daily Mirror (or the Daily Record, if you're in Scotland – redeemable at your local co-op). Inside you'll find a voucher which you can take to Toys R Us to exchange for your toy.
There should be a 'by post' option, but that might be on the voucher itself, since I can't find any info on the website. If you pick one up, do leave a comment below letting us know!
The Daily Mirror today will cost you 65p, tomorrow (Sunday) will be £1 and those next week will be 45p.  Today's voucher will be for Dr. Who himself, Sunday's will be for a Dalek micro figure, and Monday will be Amy Pond. Tuesday you'll get a Tardis model, Wednesday should be a poster or playmat and finally, on Thursday there'll be some card masks.
So, whether you read the paper or not, if you're a Dr. Who fan, these should be nice to collect.
Thanks to barneydog at HUKD