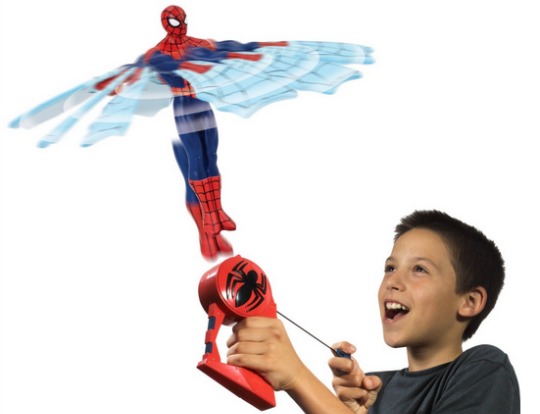 I will warn you now, my kids got gifted one of these several months back, and they have managed to play with it around twice. This is because a certain adult, ME! *cough*, seems to steal it from them, because it's so much fun! The Flying Heroes Spiderman Flying Hero is £8.71, a great price just now, over at Amazon.  Compare this to Asda, where it sells at £16, Argos at £11.99, and the same at Tesco Direct.
At last a toy that doesn't require a lorry load of AA batteries! The Flying Heroes Spiderman Flying Hero is propelled by means of a pulley system. It's simple to operate, meaning children from the age of four years old and above can use it. It comes in two pieces, the propelling unit and the Flying Hero Spiderman.
It's just a matter of popping Spiderman onto the unit and pulling the lever. He will then propel high into the sky, so high that it marked my ceilings at home, and we use it outside now. Once he has reached his maximum height, down he floats, like an elegant fairy! As simple as this toy is, it's great fun.
To get the Flying Heroes Spiderman delivered for FREE, then just spend at least another £1.29 and your order will be come by Amazon's Super Saver delivery. Like this Travel Activity Pack for Boys* or Girls* @ £1.79 each.
Thanks to Aiden1512 @ HUKD