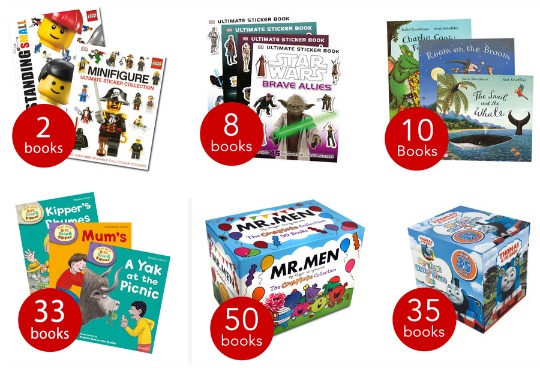 The Book People are great value for children's books, and this weekend they have a Flash Sale with some really good prices on some wonderful books, with prices starting from £1 for single books, and £3 for book collections.
Along with this Flash Sale we also have a voucher for free delivery over £15 if this is your first order with them, which will save you £3.95. You just need to enter the code AFBONBON at the checkout to get free standard UK delivery over £15.
For £3 you can get the LEGO Standing Small* minifigure book collection, or how about 8 Star Wars Sticker Books* for £5?
The 10 Book Julia Donaldson Collection* is always a favourite when it comes down to £10, and you really can't get cheaper than this. If you already have some of them then they make great gifts for parties too.
If you are looking to help with your children's reading skills then there are lots of phonics and early readers clooections in the flash sale, like the 33 book Biff, Chip & Kipper Level 1 - 3 Collection*. This is down to £15, so less than 50p a book is a fantastic price, and I would really recommend these if your child is coming up to or has just started Reception.
There are plenty of collections for older readers as well as younger ones, and all are at great prices. Delievry is free when you spend over £25, or free over £15 on first orders with the code AFBONBON. Otherwise delivery charges are from £3.95.
The Flash Sale is on until Sunday at midnight, but the free delivery code expires on Saturday.