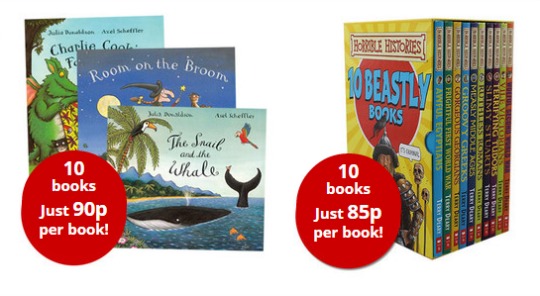 The Book People always have great prices on their books, but when they have a flash sale like this one that's when the really big savings can be found. Sadly this one ends at midnight tonight so you don't have long to grab the bargains.
It's the book collections that are always the best value, and it's great for stocking up on party bag fillers (yes, they are that cheap!), or books to keep the kids occupied over the holidays. There are some great educational titles and activity books as well as all the fiction, and many that combine both like the early readers collections.
There's a couple of collections that have dropped in price lower than I have ever seen them, and they are a couple of their best sellers as well! The 10 Book Julia Donaldson Collection*is down to an amazing £9, which is the cheapest it has been in at least the last two years, if not longer! The 10 Book Horrible Histories Collection* complete with slipcase is also lower than ever, as it's normal offer price of £10, but now it is only £8.50!
There are tons of others to choose from, and if you can bump your order to over £25 you will avoid the £2.95 delivery charge as well. Time to stock up!