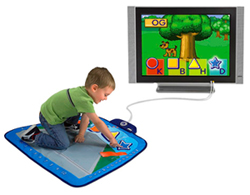 I'm all for bundling small people up in hats, coats, gloves and wellies and taking them outside to play in, pretty much, all weather.  Sometimes though this really isn't practical and there are few things more trying than a toddler bouncing off the walls with energy to burn!  With games, learning and fitness all rolled into one this is like Wii Fit for toddlers.
After customising their own interactive character your powerhouse of energy will be skipping, jumping and running around in minutes.  It has music, warm-up sessions, multiple-level learning games, timed challenges and a BIG RACE – I defy even the most physically, and mentally, energetic of toddlers not be enthralled and entertained; with a two-player option for the race you can even join in!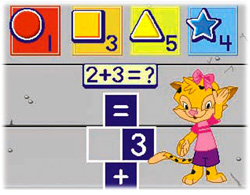 It takes 4 AA batteries (not included) and plugs straight into any TV, video or DVD player with the yellow and white audio/video input jacks, making it super-portable too.
I think this is an absolute steal at £25 and if you've got a Boots Advantage card you'll bag yourself 100 points as well!