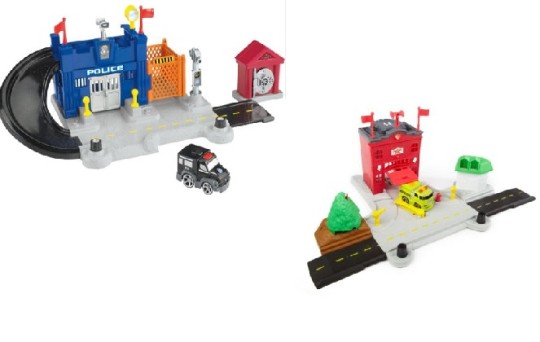 Argos eBay is selling the Fisher-Price Roll 'n' Go Playset for £7.99 delivered. Everywhere else seems to have it for around £16.99, so it's a nice little saving.
This playsets is the police station, which links with two others from the same series including a fire and rescue centre and in the car wash and tune-up centre you can send your car through the rollers and drying strips.
You can launch a button to send the police SUV down the ramp from the roof or place it in the police station and launch him out the front door to stop the bank robbery down the street.
All three playsets also include roll out roads that let you expand the play area. There are three sets, but only one is supplied and it seems like it's a bit luck of the draw which one you get.  It seems like you actually have a 50/50 chance though, since the outlet only seems to stock two types.
Thanks to kennykipling at HUKD