Fisher-Price My Very Real Baby £46 @ Amazon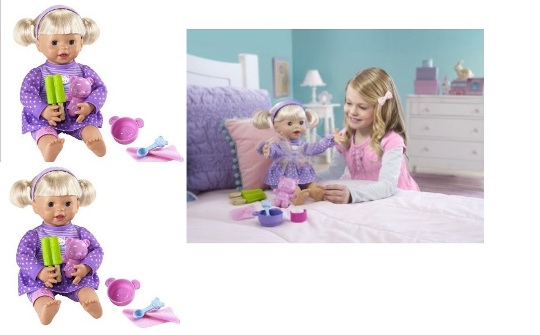 Right, so what we have here isn't exactly the world's hugest deal but it does shave about £23.09 off the usual retail price of £69.99. Selling for £46.90 this doll also comes with the lovely Amazon free super saver delivery.
This adorable Very Real Baby is interactive and has incredibly lifelike movements and sounds and helps take nurturing play to the next level. She even has lights and sensors! You will either find that cool or weird. Me, I think weird…
The doll asks for, and recognises and responds to, the juice pop and bear accessories that come included with the set. When she licks her juice pop her tongue lights up green and you can magically wipe it away. Whoa.
Then you can tickle her foot to make her giggle, and lay her down for a nap. She really does close her eyes and go to sleep! So yes, if this product works, as many like this so often don't, then she could be a real hit with a child who loves nurturing play.
Thanks to sophiemeee at HUKD!