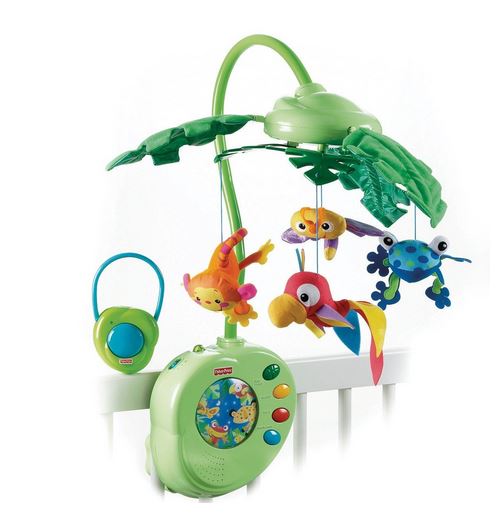 Amazon are selling the Fisher-Price Rainforest Peek-a-Boo Leaves Musical Mobile for £29.99 instead of £49.99. It's currently sold at Kiddicare for £39.95 and Precious Little One for £44.90, so if you're in the market for a cot mobile, this is a good price.
My daughters loved the Fisher-Price Rainforest Jumperoo when they were little, but we never ventured to the rest of the Rainforest range, although I was often tempted. The cot mobile is one of the products from that range, and it looks lovely.
"With the Rainforest Mobile, baby can relax under his very own rainforest canopy as shiny leaves wave gently up and down above him while a dragonfly plays peek-a-boo."
The large leaves with shiny undersides all slowly move down at once to hide the hanging dragonfly, then gently move back up to reveal it. Other rainforest friends join in the fun, dancing and twirling as the mobile spins overhead.
There's a remote control for managing the classical music and rainforest sounds from a distance. There are three settings which allow you to manage the music, motion, lights and the night light. Later on, you can clip out the mobile part to reveal a music box with easy to press buttons for still listening to the music.