Fisher-Price Rainforest 1-2-3 Musical Gym £26.66 @ Tesco Direct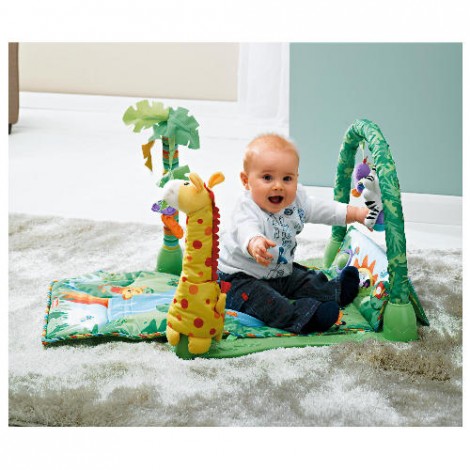 If you're after a fab' baby gym then look no further than the Fisher-Price Rainforest 1-2-3 musical gym!
This has to be the gym to top all other baby gyms, I've never seen anything quite like it and I have to say...I love it!
There is so much to discover and do for each baby phase, it's just fab'.
When your baby is teeny tiny they can lie on their backs and reach out to bat the toys which hang down from the play arch - one of them is a soft Toucan with a jingly bell.
It has lights, it plays between eight and 20 minutes of music (I have visions of it being 'King of the Swingers' sung by King Louis from the Jungle Book, but I rather suspect it's nice twinkly classic tunes) and when your child is ready for tummy time, there's a tummy wedge to help them along their way.
The reviews I've read are excellent, here's an example...
The bright colours on this are fantastic. She is at the stage of lying on her back and playing and she would happily play on this for an hour or so. She absolutely loves the black and white tiger who plays a tune when she hits him and she has lots of smiles for the butterflies
Tesco have reduced the price of this Fisher-Price Rainforest 1-2-3 musical gym from £39.99 down to £26.66 - all of the usual in store collection or £5.95 delivery options apply.
Thanks to cooldude01 over at HUKD!