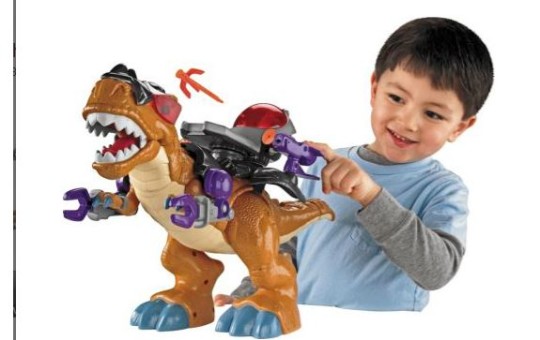 Argos has a great little sale on toys at the moment, and one of those bargains is the Fisher Price Imaginext Mega T-Rex reduced from £36.99 to £7.49 - Amazon currently has it for £47.89 and Toys R Us have it for £39.96, so this is a whopping good price. The T-Rex is currently available for home delivery in two days and there's plenty of stock around me, so I'm hoping it'll be the same for you.
I can think of a fair few children I know - boys mainly - who would just love this T-Rex toy.
It is battle-ready with an armour pack loaded with a figure control station, tech arms and projectile launchers that actually fire. If you press a button you'll hear him roar, and his arms and neck move and his jaw open as well. There's actually a video of him in play-action on the site, and it's rather impressive, actually.
The Armour is removable too.
The Dino armour includes a cockpit, headpiece, figure and figure helmet as well as 2 launchers and 2 projectiles.
I'm sure this will go down very well.
P.S. If you're on a mobile device, you may need to add it to the basket before you see it at this price.