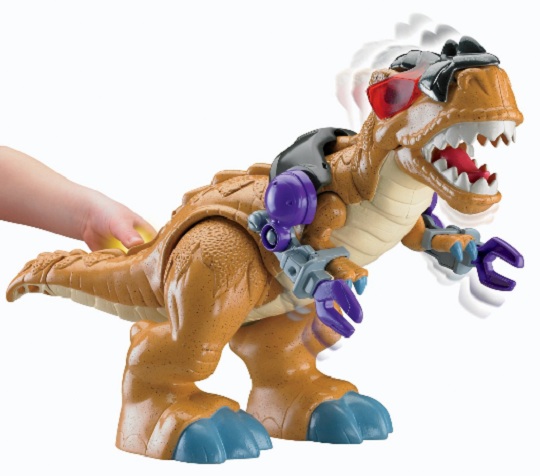 The Fisher-Price Imaginext Mega T-Rex is on sale for £26.99 at Amazon. This super cool toy moves, roars and tries to eat everything in sight (as they do). The recommended retail price is £45.99 but you'll get £19.00 (41%) off that price at Amazon.
Taking classic dinosaur play to the next level, the Fisher-Price Imaginext Mega Tyrannosaurus Rex has motorised action, sound effects and removable armour to add to the fun. Without his high-tech armour he is a highly stylised dinosaur with great detail and motorized action. When the button is pressed on his back he will begin his neck swinging, jaw-opening motion all the while giving great roaring sound effects.
For added play he can be geared up with his high-tech armour taking the play to another level. The T-Rex comes with a helmet, rear control pod and two projectile launchers. An activation disk on his back will enable the figure to open the pods door. He also comes with extended arms that have large mechanical claws on them extending his normal capabilities.
When all his gear is on, the motorised action really comes to life with arm chopping, neck swinging and jaw opening action, fabulous!
Thanks to wishihadadonkey at HUKD!