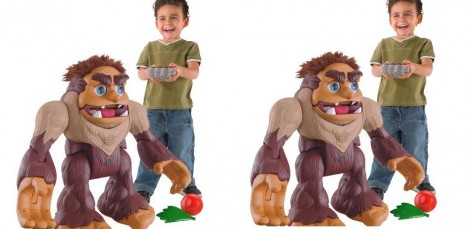 Fancy owning an enormous Big Foot Monster toy that usually costs £110 for a mere £25. I want to buy this just because it is so darn cheap, even though my child will probably run screaming at the very sight of this darn thing!
Imagine a little monster with a big personality and you have this ace toy from Fisher-Price. He comes to life with a wireless remote control and the symbols on the buttons will show you what Bigfoot can do when you push them. The toggle on the control allows you to manage his movements making him walk forward and backward, and there are buttons for happy, angry, sleep, fun, ball and exercise too.
He has three interaction buttons on his body – his belly, mouth and hand – and pressing these delivers other features such as laughing, chewing, burping and throwing a ball. He walks, talks, roars, throws his ball, snores when he is asleep and even lifts weights. He also needs eight AA batteries at a time. Ouch.
Thanks to pink-ka at HUKD!