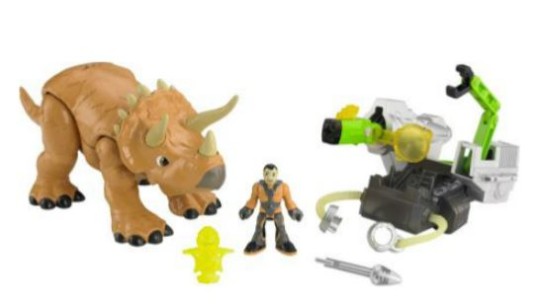 For the Dino lovers among us Argos have reduced the Fisher-Price Imaginex Dino Deluxe Assortment to £4.99 from an original £23.99 although they have also been on sale for £9.99. Either way, it's at least a half price sale. Click and collect is free and delivery is £3.95. At present it's available for both home delivery and store collection.
This prehistoric monster is tall, powerful and on the hunt. He's equipped with a launching platform on his back where you can blast the gliders. He also has a working crane to bring the gliders back or to carry objects around. What adventure will you have with this magnificent beast?
It sounds like the stuff of imagination and nightmares - got to love it!
You will get one Dino with your purchase and 'styles may vary'. It's a good size at  H28, W13, D31.8cm and is aimed at children over three years of age.
I know there's a trip to Argos in my future, with all the bits I've reserved this morning, and an extra £4.99 for one of the myriad of birthday parties every weekend seems like a win to me.