Fisher-Price 1-2-3 Musical Snail £8.49 @ Argos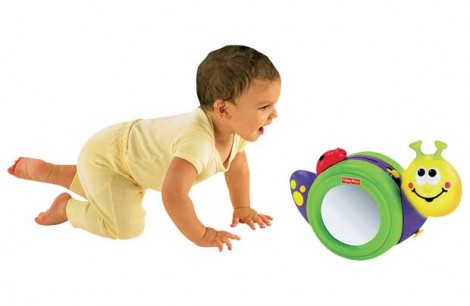 This is a great little toy that will grow along with your child.
Toys that you can buy for your child which will grow in unison with their development will always get a thumbs up from me, and this Fisher-Price 1-2-3 muscial snail gets just that.
Suitable for babies from when they are three months old there are three stages of play to be enjoyed.
For stage one the wheels lock so that he just rocks in place and your baby can look into the large mirror - reflections always being a big hit.
For stage two, when your baby is sitting up he can interact with the snail by batting him and triggering off sounds, music and flashing lights as the snail rocks backwards and forwards.
Then finally there's stage three - unlock the wheels and your, now, crawling baby can bat the snail away who will then scoot off with his lights flashing and his sounds erm...'sounding'  for your baby to crawl along after (well as fast as snails scoot anyway!).
Argos have reduced this from £16.99 to £8.49 and is currently available for home delivery or to pick up in your local store (depending on their stock levels) and he also comes with the 2AA batteries that he needs too.
Thanks to millarcat over at HUKD!