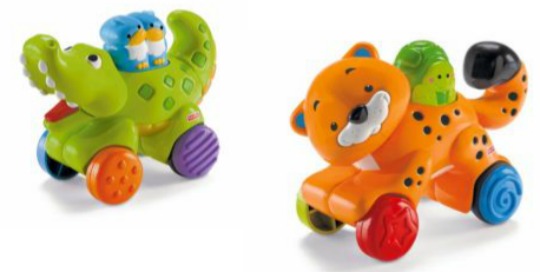 Are you starting to put bits by for Christmas? If the answer to that is yes then look at these, Fisher Price Push and Go Animals from Argos. They were £9.99, then got reduced to £4.99 and are now only £3.99. The cheapest I could see these elsewhere was around the £8 mark, so this is a bargain.
The Fisher Price Push and Go Animals toy comes in two different forms, a cheetah or an alligator (could be a crocodile or even a cayman!). You cannot stipulate which one you desire at point of ordering, but if you want a specific one then you can always ask in store when your order is being picked from the warehouse.
This is suitable for babies six months and above, fab for if your needing some first Christmas gifts. I know I am struggling with what to get my little Daniel.  The cute animals roll along when you press the top of them, plus their tails swing. Their heads click when you turn them. Cute!
Reserve and collect your Fisher Price Push and Go Animal toy free from your local Argos store or pay £3.95 to have it delivered.