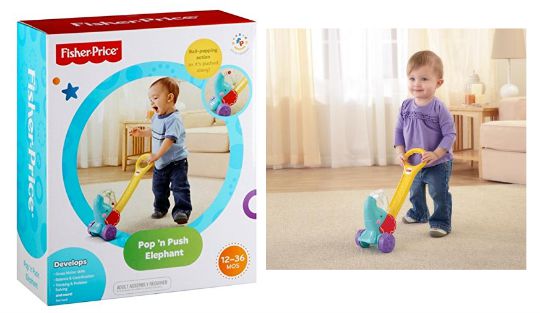 With Christmas presents in mind this is a great little pressie at a bargain price. Perfect for babies or toddlers who are just becoming steady on their feet. The Fisher Price Pop 'n Push Elephant normally retails for £12.99 but Home Bargains are selling it for just £6.99. That's another present ticked off the list! :-)
This push along elephant toy is designed to encourage little ones when they are learning to walk. As it is being pushed along, balls pop out of the elephants trunk over and over again.
Your little one won't be able to resist the fun colourful ball-popping action as they get up and go with this Pop 'n Push Elephant from Fisher-Price! As baby pushes the friendly elephant along, colourful balls pop out of the elephant's trunk, again and again encouraging baby to walk. The exciting ball-popping rewards baby's steps, teaching them about cause and effect, whilst the bright colours and sounds help to stimulate your little one's sight and sound senses.

It is designed to develop balance and coordination and stimulate and encourage little one's with the bright colours and sounds. It is suitable for ages 12-36 months.
This is a delivery only item however you may be able to find it in store so worth a look. Delivery starts from just £0.50.