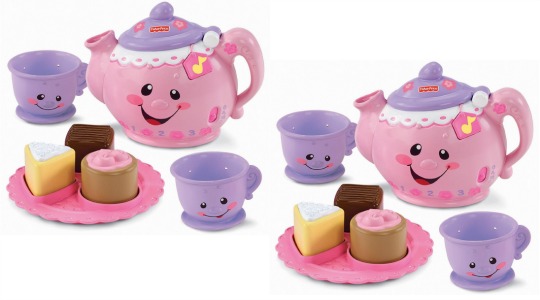 It's amazing just how educational toys can be for little ones. My 16 month old can count to three and I thank his VTech interactive walker toy for that. Things we want our children to learn from a young age... numbers, letters, colours. What about manners? This Fisher Price Laugh and Learn Say Please Tea Set does just that. You will be saying please and thank you when you see the price ...it's now only £8.99 at both Argos and Amazon.
The Fisher Price Laugh and Learn Say Please Tea Set has rave reviews on Argos and scores an amazing 4.8 star rating. This toy will teach your child numbers, opposites, greetings, manners and so much more.
Not only is it an interactive toy but it's a role play one too. It's a cutesy tea set that any little one will adore. I am just a bit annoyed they have aimed it at little girls rather than marketing it as a unisex toy, but that doesn't distract that this is a great toy for a super price.
You can Reserve and Collect your FP Tea Set for FREE from Argos or pay £3.95 for home delivery. If you order from Amazon, then it's FREE delivery when you have Prime or £3.30 if not.