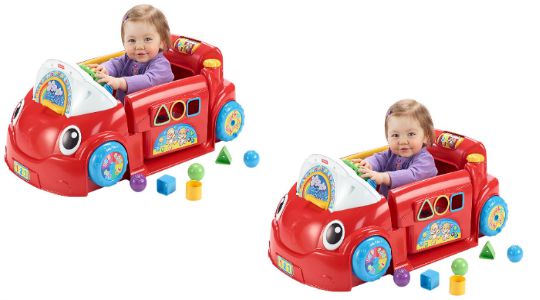 Buying a big present for a little person can be quite difficult. If they already have a ride on, walker or suchlike, then what choice is there? This Fisher Price Laugh and Learn Crawl Around Car is just ideal in that situation. Very seem to have it cheaper than anywhere else at just £58.40. Toys R Us are selling it for £72.99 and that's with money off! These do normally sell for around the £70 mark so to get it for under £60 is a cracking deal.
The Fisher Price Laugh and Learn Crawl Around Car has a FIVE star rating on the Very site and is rated just as highly elsewhere. That's because it's jam-packed full of fun things to do for baby.
It's suitable from six months old and above, the various elements of play will stimulate them even as they grow.  The dashboard has lights and sound, whilst the steering wheel can move up and down. The wipers move to change the scene and the music radio plays songs. This Fisher Price Car sounds like lots of fun.
You can pick up your Laugh and Learn Crawl Around Car for FREE from a local shop with Collect+ or pay £3.95 to have it delivered to your front door.
Thanks to Cassie G on our Facebook page