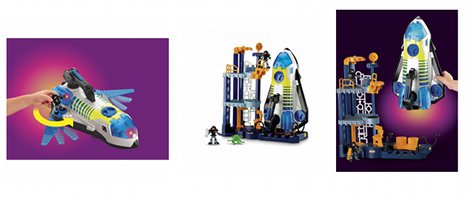 For the little boy who wants to be an astronaut, the Fisher-Price Imaginext Space Shuttle for just £16.99  down from an original £40.00 at Boots could make that dream come true – even if just for a while
"Imagine", says Boot's description of the space shuttle "you're aboard a space shuttle, ready to take off any second! Press a button for take-off sounds and blinking lights. Turn a figure to open the doors, open the solar panels, activate the stairs or rotate the crane (which also attaches to the second floor of the tower to load cargo into the shuttle). And that's just the beginning of the adventures."
Well, now, that does sound like fun.
And fun is exactly what's in store for your child of three and up with the space shuttle. Included in the box is a tower with an elevator, a shuttle with a crane, two figures, two helmets, the console and 3AA batteries.
The Fisher-Price Imaginext Space Shuttle is a highly imaginative toy designed to take your child's imagination into hyper-drive with its interactive sounds and features. Press a button and the space shuttle's rocket boosters kick into action and replicate the sound of a real take-off. The full-scale launch pad has all kinds of moving parts. Let your child's imagination take a trip around the galaxy with this adventurous toy set.
The three different sound effects are the roar of a shuttle launching into space, solar 'pings' and the opening of the giant shuttle cargo bay or rocket boosters kicking into high hear.
There are hours of fun to be had fitting the space figures into five different platforms on the shuttle and launch pad and controlling the many different functions. As an added bonus, the shuttle is big enough that two children should be able to play with it simultaneously.
Thanks to fragger at HUKD