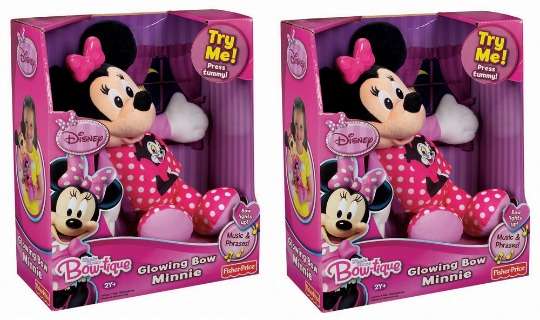 It's another great toy deal from Amazon for you. The Fisher Price Glowing Bow Minnie was £26.99 but has now been reduced to just £13.49 with FREE Delivery.
All other major competitors are still charging at least £24 for this toy, so if you know any Minnie Mouse fans this is a bargain gift for them.
The Fisher Price Glowing Bow Minnie is dressed ready for bed in her pink polka dot pyjamas with Figaro the Cat on them. Squeeze her tummy and she will say sweet night time phrases and sing a lullaby to help you get to sleep. When she talks or sings the pink bow on her head glows gently.
She is designed to help comfort small children at night-time, and the customer reviews are all 5 out of 5 so she comes highly recommended!
The Glowing Bow Minnie is suitable for children over 2 years of age, and comes with batteries included.
Thanks to Andrew91 @ HUKD.