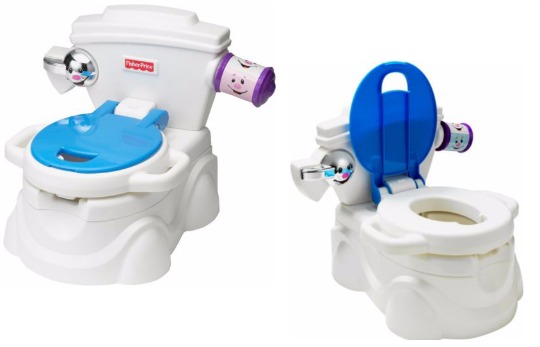 Potty/Toilet Training can be stressful for some parents and therefore some kids. There are ways you can make it more fun, the Fisher Price Fun to Learn Potty is one method. Get it from Argos just now for just £29.99 reduced from £46.99. It's £45 at Debenhams which is a LOT for a potty.
The Fisher Price Fun to Learn Potty is made to look like a real toilet. I like that it does, as we train them to use this little plastic pot then expect them to then alter that to the toilet. With it looking like a big boys/or girls toilet it might inspire your little one to be "all grown up" and use it.
There's a flush handle that makes a noise when pulled and a toilet paper roller. It's a musical potty that will encourage your child through song to use it. The bowl that the wee goes into can be removed for easily disposal.
You can Reserve and Collect the Fisher Price Fun to Learn Potty for FREE from your nearest Argos or pay £3.95 to have it delivered to your front door.