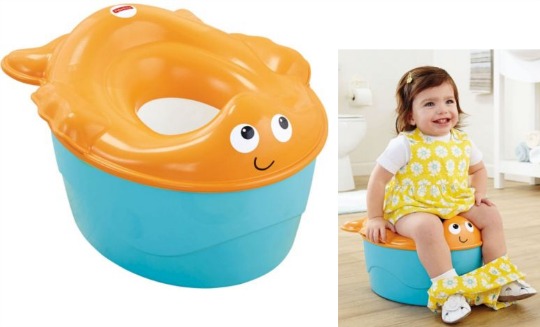 Trying to get your child out of nappies? Head over to Boots for the Fisher Price 3 in 1 Goldfish Potty for just £9.99. These are part of Boots' 1/2 price event on selected baby items. This is a potty, step stool and potty ring in one so is well worth it's sub ten pound price tag.
The Fisher Price 3 in 1 Goldfish Potty from Boots.com helps enable a smooth transition for your tot from nappy to toilet. The Goldfish Potty features a cute little friendly face to entice little bums to use it. It's easy to empty but looks to cumbersome to cart about from place to place outside the home.
From Potty to Step Stool, once your child has grasped the concept of the toilet and the potty, they can use this to stand on at the sink to wash hands. A tip instil this habit into them now or you will be forever telling them to do it.
Once finished with this as a Potty you can use the Potty Ring on the toilet to prevent your little one falling in when they are doing a wee.
You can collect this from your local Boots for £1.95 or pay £3.50 for home delivery.