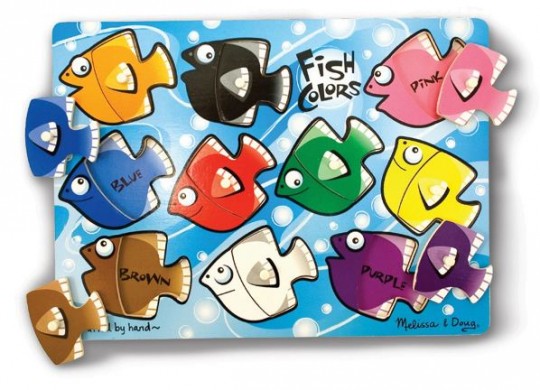 The Fish Colours Mix and Match Peg Puzzle from Melissa and Doug has a pound off at Debenhams and is selling for £4 but the code GZ79 gives you 10% off, and comes with free delivery. It's also £4 at Amazon, but Debenhams is obviously a little cheaper.
There's something about fish and fishing games, my daughter loves. She's always attracted to them. I don't know why, but I know she'd have loved this game a few years ago, and probably even now!
This wooden peg puzzle, featuring 10 colourful fish, includes ten interchangeable pieces, allowing children to make a different school of fish every time. I guess the idea is that they colourmatch, but they can also fit into the other fish-body-hole bits, so you can make colourful fish.
The names of the colours are under the pieces, so should help with word recognition too.
Not a bad little travel toy or gift for the price.
Thanks to xposure at HUKD