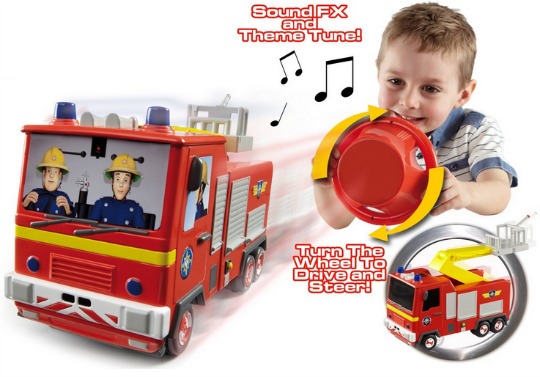 Oh how I love a man in uniform! Fireman Sam has been my favourite for a long time. He is still very popular, and hasn't aged at all. Amazon have the Fireman Sam Drive & Steer Jupiter for only £17.32, and that includes FREE Super Saver delivery. This sells for £24.99 at Toys R Us and £22.49 at Argos.
The Fireman Sam Drive & Steer Jupiter is a remote controlled toy with a difference. The remote is a steering wheel and can be turned to direct Jupiter around obstacles, like furniture, your feet, and so on. If you child decides there's an emergency then they just need to press the turbo charge button and zooooooooom, off it goes.
Jupiter sounds out the Fireman Sam theme tune and phrases as he screeches around your entire house. If this gets on your wick, then simply press the mute button. Why can't every noisy toy have this function?
With the steering wheel controller, you can direct Jupiter, forwards, backwards, any direction at turbo speed and you can sound the siren. I wouldn't worry about the turbo speed, as I can't imagine it being mega fast considering it's suitable for children aged three and above.
Thanks to esthermorris @ HUKD