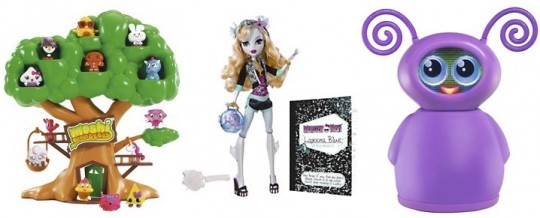 Have you heard of Fijit Friends? Moshi? Monster High? No? Clearly then, there are no children under the age of 10 in your life (or maybe they're just TOO young). These are amongst THE hottest toys at the moment, and will all be best sellers for Christmas.
With this in mind, here at PlayPennies we decided to get some toys from each range from Woolworths to review. To try them out, and see exactly what it is you are going to get for your dosh. Particularly the Fijit Friends toy, as these are so new and actually, I was a little bit confused as to what exactly the attraction is. There's nothing worse than finding out you've wasted your cash on something when its sole appeal happens to be that all your child's friends have/want one.
So read on to find out if these really are must have toys, or if you should be putting them in the must avoid category.
Fijit Friends
The Fijit Friends (£55 each) range is certainly an interesting toy. It is sort of like technology for kids - a programmable electronic toy with a 'huggable' skin. A Fijit Friend has interactive features, including voice recognition, beat detection, dance mode and over 150 built-in responses.
The Willa Fijit Friend we got was a hit with our test child (a six year old girl) from the moment it was taken out of the box.
Willa Fijit is small and very cute in an alien and strange kind of way. Her voice is robotic and high pitched - very much the voice range of the target market I imagine. Be warned though, this toy comes with some very detailed instructions that have to be followed to the letter if you want her to respond properly.
Fijit responds to three primary commands - Let's Chat, Tell me a Joke, and Let's Dance. In our experience though, Willa Fijit responds only intermittently, with an 80% success rate.
To start with we played with the chat function. I am not sure if it is the accent issue (my accent, as I'm not British) but she often would tell a joke instead of initiating the chat feature. This was very frustrating for our young tester who really, really wanted a conversation with Willa Fijit.
This was hard to explain to a six year old - the youngest age level of the target market for the Fijit Friends toys. It is recommended for ages 6 and up. Her mother explains that " it was an ordeal to try and get her to understand that the Fijit can only talk to you if you use very very specific phrases. This led to her being in tears because Fijit wasn't talking to her about princesses and playing with her nicely. She took it personally."
However, if you do get Willa Fijjit to respond accurately, the toy does ask about the weather, your mood and whether or not it is the weekend, and laughs if you say you are happy, and so forth.
The joke function is, at first, hilarious. I thought the terribly cheesy jokes were fab and laughed like a drain at them. BUT they do get recycled. It's not like you are with a real person who updates their repertoire. Once they say the same joke for the 4th time in an hour you get a bit tired of them. Even our young tester got bored and didn't use that feature again.
The dance function makes up for this. It is a bit hit and miss though, with the doll asking you what type of music you want to use - hers or yours - and if you say "yours" she will boogie for a VERY short period of time to her own music. I expected her to at least dance to an entire song. She dances very well to your music though.
We popped on Kylie's 'Cant get you out of my head' on full volume and we all boogied in the lounge. Willa Fijit bobbled about on the table jiggling her head and bending backwards and forwards and moving about like a mad thing.
Overall I would say that this is a very cool toy from a use of technology perspective and it does have some impressive features. The voice command is not perfect but it is good enough to impress even visiting adults. However, the "skin" of the body has been marked as "totally weird" by almost everyone except kids. It has this weird slimy feel that is almost offputting. But the kids adore her and our tester enjoyed hugging her. Sometimes if you hug her or tickle her she will blow you kisses and tell you she loves you. The instructions are not very clear on how to get her to do that whenever you want.
Willa Fijit is fun and cute and sweet. She is not a replacement best friend, sorry Girl Tech, but she is a totally cool toy that most kids would like to find under their tree.

Monster High
The Monster High gang are the 'hippest ghouls' in school with their trendy fashions, accessories and cute scary pets. We got the Monster High Lagoona Blue Doll (£15). Lagoona is the daughter of a sea monster, has a pet piranha called Neptuna and is captain of the swimming team. A refreshing change if you're sick to death of Barbie.
We were impressed with the number of accessories you get. This one came with a pet fish and its portable fish globe, fins to put on her legs and arms, a hairbrush, and a cool outfit.
Lagoona even comes with a diary that chronicles her adventures with her pet fish. It was a hit with our young tester who made her mother read it to her everyday.
Pluses: Good price point, fun and quirky, lots of extras and accessories like the pet fish and the diary,  lots of choice of characters, spooooky.
Minuses: the fins fall off too easil; accessories will end up under your feet when you go to the loo in the night, guaranteed.
Moshi Monsters Moshling Treehouse
The Moshi Monsters Moshling Treehouse playset is a familiar sight here on PlayPennies. It is a hugely popular toy. So we were particularly excited about getting one in for review. Especially for our young tester.
As her mother told us "I have registered my child with Moshi Monsters online and she is a die hard fan. The site is fantastic for developing reading, problem solving, maths and general knowledge skills as well as computer and IT skills. I allow her 30 mins every day during the week (if she wants to play it) or an hour a day on the weekends. She has made the leaps and bounds in her reading because she hates waiting for me to explain the rules of every game/puzzle before she can play."
First off, the general consensus is that the Moshi Monsters Playhouse looks fabulous. The instructions on how to assemble it utterly bewildered me at first. I am so crap at reading and assembling in 3D it is unreal.So this initially blew my head off and replaced it with gloop.
Eventually, with the help of our six year old tester, I got it installed and set and ready to go.
On the downside, the base is not good. The treehouse constantly unseats itself, which is a pain to reassemble whenever you or the kids move it. That's  because the other bits, like the branches, can also fall off while you hold it upside down to click the base back in.
There are stickers to decorate the treehouse and these really enchanted our tester. All in, we had lots of fun deciding where to stick our paintings and cacti.
The branches et al were simple to install and don't fall out easily. They are cool spots for Moshis to sit
You get a free special Moshi monster with your treehouse that you can then winch up in the included basket. This is a classic pull and release motor that will pull the bucket up with the Moshi inside. The only down side of this is that the bucket was a little too small for our Moshi monster and kept tipping her out.
Other than the annoying base, this is a great gift. It hits all the right notes, will be a brilliant find under the Christmas tree for moshi monster fans of all genders. And you can nab more moshi monsters as stocking fillers on the day too.
And finally ...
I'm not so sure I'd spend this much money on a Willa Fijit Friend. Perhaps if our tester was older, she could have understood how to use her more. Instead, according to the mother, she played with Willa Fijit for a week and then lost interest. A better buy then for older children who have asked specifically for the toy.
Our verdict: 7/10
For £15 I have to say that the Monster High Lagoona doll fits right in with the price range of these toys but she is a lot more, well, quirky. If given the choice between this and a scantily clad barbie, I would choose her any day.
Our verdict: 8/10
At £20 the Moshi Monster Moshling Treehouse playset is expensive but you're paying for a name and a trend so is pretty much spot on for that. Good Christmas gift that I would recommend.
Our verdict: 7/10