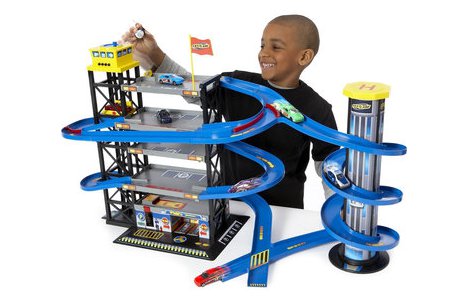 Toys R Us have a rather nice half price deal on this Fast Lane Parking Garage with 8 cars - it's £19.99 now instead of £39.99; marvellous!
I have always had a love for cars and toys like this Fast Lane Parking Garage still do it for me.
Forget Barbie, Sindy, Tiny Tears and all those other stereotypical girly toys, it was cars and Star Wars figures all the way as far as I was concerned, and both my boys learned very early on that if they wanted me to play with them for ages, all they had to do was get the cars out!
This Fast Lane Parking Garage has five levels with a working lift and sounds, lane changing gates that connect each level and it even has a spiral loop for a fast exit!
I WANT ONE!
It's ironic really, you spend hours and hours as a kid, playing with toys like this Fast Lane Parking Garage, having awesome fun parking cars and finding spaces but when you're a grown-up few things are more tedios than trolling round and round the multistory in your car on the prowl for a space.
The Fast Lane Parking Garage can be delivered to your home for £4.95 or you can arrange to collect it in store using the Toys R Us click and collect service.
Thanks to David1UK at HUKD