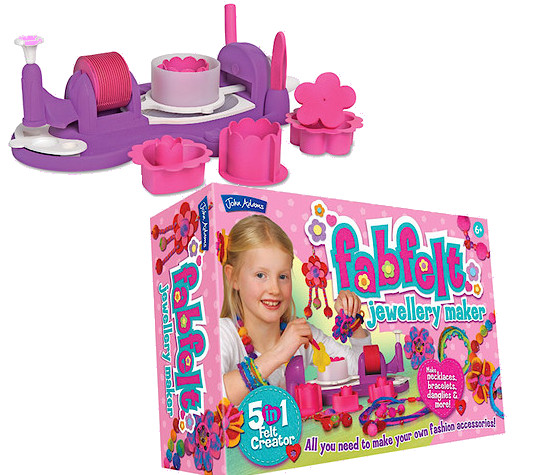 The Fab Felt Jewellery Maker from The Entertainer, while listed as 50% off, is actually reduced from £25 to £10, making it 60% off. Standard UK delivery is another £2.99 but you can also use the free click and collect service with as little as 30 minutes notice.
There are no reviews on The Entertainer for this product, so I can't tell you how well this concept translates into reality, but according to the blurb that goes with it, budding fashion designers will go crazy for this simple to use textiles kit.
The pink gadget transforms wool into felt patches from which you can make one-of-a-kind pieces of jewellery. You can create bangles, felt balls for necklaces and turn felt hearts and flowers into pretty brooches to wear on coats, tops and school bags, they say.
Suitable for children aged six and up, the set includes the jewellery maker, eight brightly coloured wool tops, beads, jewels, clasps and various design tools.  All you need to add is a bit of patience and some imagination. Sounds Fab to me!