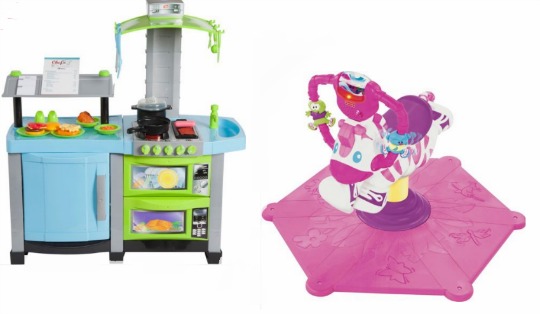 Did you know that Argos have a store on eBay? They do and they have a terrific selection of toys, some of which are reduced. We are all looking for toys at this time of year, so if you can bag a saving then it's all good. From now until 10pm tonight, you can get an EXTRA 20% off when you use coupon code CUKFLASH at the checkout when you are spending £20 or more.
Here are some examples of what you could get when using that coupon code at the Argos eBay Store: Chad Valley Chef's Play Kitchen* was £49.99 now £31.99, Chad Valley 250 Piece Super Art Set* was £12.99 now £5.19, Fisher Price Bounce and Spin Pink Zebra* was £59.99 now £43.99 and Lego City Advent Calendar* was £19.99 now £15.99.
It's not all toys either, check out these other Bargains too: Munchkin Steam Guard Microwave Steriliser* was £14.99 now £10.39 with FREE delivery, Safety 1st Baby Pink Booster Seat* was £14.99 now £7.99 delivered and Grace Cole Ultimate Glamour Filled Vanity Case* was £10.99 now £8.79 delivered.
Remember, these prices only stand if you spend £20 or more and use the Coupon Code.
You can Reserve and Collect your eBay store bargains for FREE, just as you would if ordering from the Argos site. Some items come with FREE delivery and others can be delivered for Argos' standard delivery fee of £3.95.