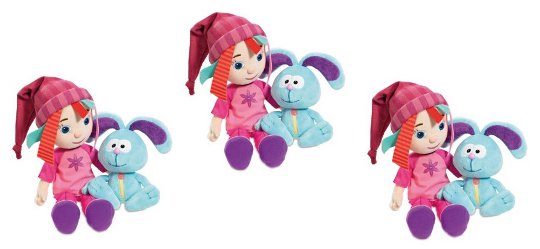 If you get yourself over to Argos, quickly, you'll be able to pick up an Everything's Rosie: Sweet Dreams Rosie and Raggles for just £9.99 - their usual price is £29.99 (they're currently £24 with Amazon, if you want a comparison) and they'll be delivered to your home, for free, within four days.
My daughter will be 17 next month, so a little bit out of the target market age range now, but I'm pretty sure she would have adored Rosie and Raggles, along with all other things Everything's Rosie - it would have all been just her sort of 'thing'.
When your daughter/granddaughter/niece/whoever cuddles up in bed with Sweet Dreams Rosie, her cheeks glow and she'll sing them a soothing lullaby, and her little bunny friend, Raggles, has a glow-in-the-dark zip on his front (he looks like a 'he') and long floppy ears for tweaking - if his ears are anything like the soft velvety ears of my dog, then they're going to be tweaked to within an inch of their lives!
Sweet Dreams Rosie requires three LR44 batteries, which are included (hurrah!), and she's suitable for little ones aged two and over.
Thanks to emeraldzcity at HUKD