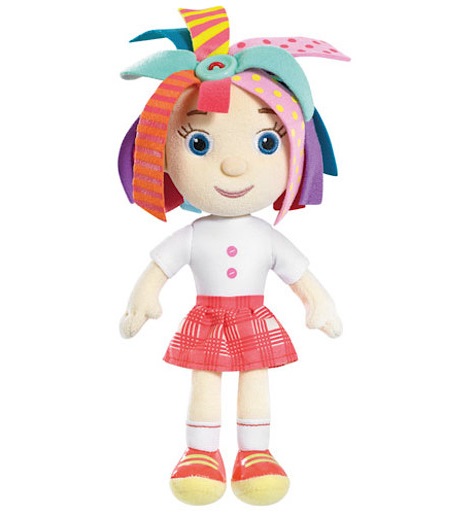 Get this Rosie doll from the CBeebies TV show Everything's Rosie for just £1.90. It was originally £8 at The Entertainer, also known as The Toyshop.com.
Click here for your Everything's Rosie Playtime Friends Rosie at The Entertainer*
You need to use the The Entertainer promotional code MCHMVC  to get it at this price. To use the discount code go to the Basket page and enter it in the Promotional Codes and Vouchers box. It will appear straight away on your order if accepted. Oddly, it didn't the first time for me. I pasted the code in a second time and this time removed the space that was at the end of the code, and it worked just find. If you still have trouble try typing the code in manually.
The Everything's Rosie Playtime Friends Rosie can be collected for free if you're able to get to a store, otherwise it is £2.99 for delivery.
Cuddle up to the star of Everything's Rosie with the 16cm tall Rosie Playtime Friend.
Caring and adventurous, Rosie's a brilliant playmate and as a snuggly soft toy she also makes the perfect bedtime companion. Playtime Friends Rosie is ideal for fans of the hit CBeebies show Everything's Rosie aged 2 and up.
There's also an Everything's Rosie My Best Friend Doll reduced from £20 to £6 and an Everything's Rosie Ring 'O' Rosie Doll marked down from £23 to £6.90. The code will work for a further reduction on both items.
Thank to Cazza 28 at HUKD!