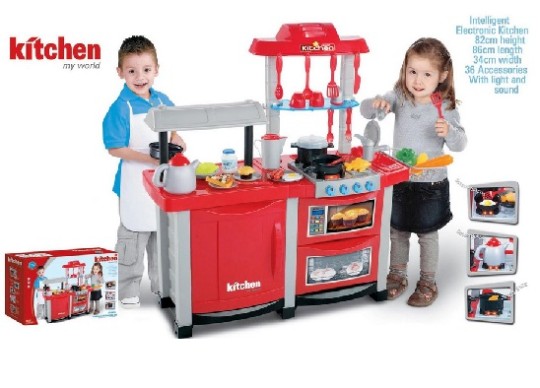 VinsaniUK are selling an electronic play kitchen with lights and sounds for £34.99, down from £49.99. Delivery is free, so it's all yours for under £35.
Let your child be a little cook with the Intelligent Kitchen Play set, it comes with 36 kitchen accessories, allowing your child to be the cook of the day. The Kitchen play set releases real sounds, music and light, allowing you child to feel like the real cook. Helps develop your child's imaginative, role play and social skills.
I really like that this kitchen comes with pots, pans, kettle and food accessories, so that you can play from the get go, without having to spend more money on accessories.
The kitchen is H 82cm x L 86cm x W 34cm which is fabulous for if two or more children want to play together. While I'm sure they'll find something to argue over, there's plenty of space for everyone to have a 'work surface'.