ELC Wooden Diner Kitchen £100 Delivered @ Early Learning Centre/Mothercare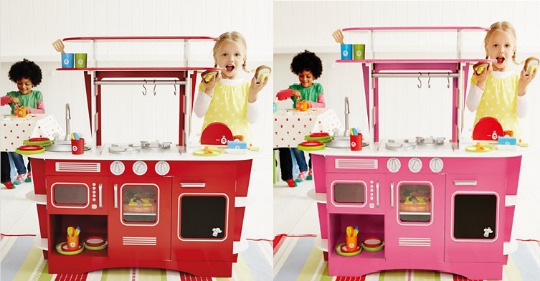 The ELC Wooden Diner Kitchen is one of the Early Learning Centre's best selling toys. It's normally £150, quite simply because it's HUGE. Just now you can get it from either Mothercare or the Early Learning Centre for just £100, plus FREE delivery. That's a third off or a great saving of £50, which ever way you want to put it. It's available in a unisex red colour or a rather girly pink. Order it through the Mothercare app and you may be able to save a further £10. Click here for details on how to do that.
Wooden toys are MEGA popular just now, and items like play kitchens in particular sell out ridiculously fast when they are at a reasonable selling price. I'd say £100 for one of these big ELC Wooden Diner Kitchens, is pretty good.
The pink coloured kitchen is a limited edition, and is only available for a short time, so it's worth noting that.
Both coloured kitchens require self-assembly, so bear that in mind. They have an oven, a two ring hob, microwave, chopping board, cupboard, sink, hanging rail, work surface, shelf space and a chalkboard.
These will certainly keep your children playing for hours on end, and it's a fabulous consideration if you have two young children. Get them it as a joint present.