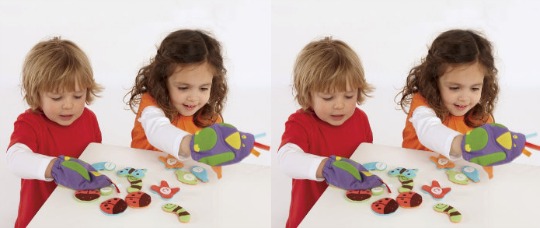 Mothercare are selling this Early Learning Centre Wallop a Worm game just now for £2.50. It was £8 originally and it's worth that.
My children have this game and were given it last Christmas from my best friend. I will be honest and admit that when they opened it and I saw the name, I did wonder what the heck she had bought them.
Apart from sounding like some kind of kinky bedroom game, this provides a lot of fun with children aged 2 and above. It is quite babyish and I really don't think it would appeal to the over fives. We have used it a lot since we got it and I feel it has been quite educational.
Children put on a colourful mitt then proceed to wallop the worms, butterflies, ladybirds and leaves. Once one sticks to their mitt, they have to say what the creature is, what colour it is and what number is displayed on it.
I personally feel that this is a fun memory game for your wee ones. Click and collect is of course free from your local Mothercare store or £2.95 if you would rather it was delivered.